Concentric counterparts
08 November, 2018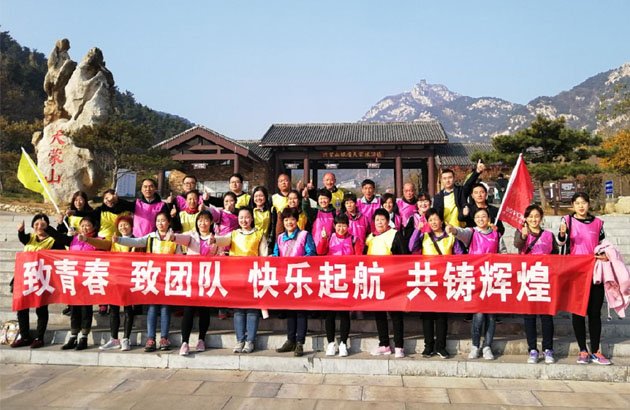 Concentric counterparts to create the future
Aelga zibo office building teamwork
Autumn is strong in November, right to travel. Aelga zibo office organised a farmer titled "happy youth team to set sail to create brilliant" team building activities, offices, more than 30 backbone personnel to attend.The whole trip is roughly divided into two big modules "crazy roller coaster mengshan voyager + day" activities there are both physical effort and the baptism of the spirit and brain storm and hands-on design ability, two days one night full and challenging.
Crazy roller coaster build effective team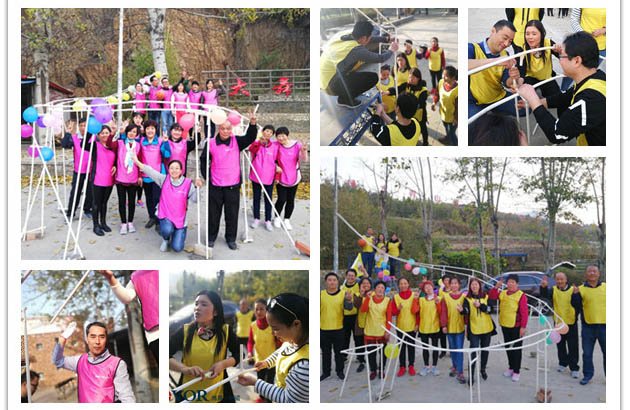 oller coaster = knowledge + creative thinking + + + and win-win
The first day activity, "crazy roller coaster" situation!"Crazy roller coaster", in the absence of references, each group of team members need to through PVC pipes to 60, do a longer than 12 meters high is not less than 3 m of a roller coaster, and basketball to be on a roller coaster, run from a high starting point to the lowest, midway through the ball can't leap from the runway.
This is a very imaginative team project, for a manufacturing enterprise is given priority to with r&d, aelga members in the face of this exciting project, each member actively play their role, creative design, assembly, overseer, trial production, quality inspection...Fall in love with each link, all through the team cooperation, in the shortest possible time, efficient design out of the two aelga creative roller coaster. The desire of the project to succeed, depending on good aelga members collaboration, division of labor and the Shared knowledge, resources!
Mountaineering concentric counterparts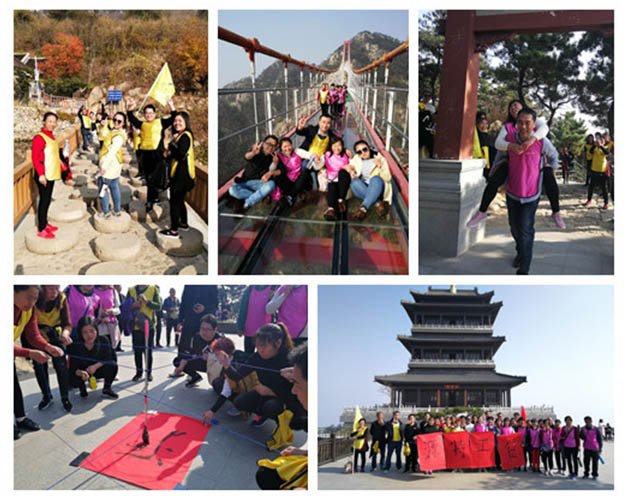 Mountain climbing, the team challenge
The next day, the team members mengshan bus came to the day, in the beautiful scenery of mengshan mountain climbing competition, directional recruit, started the mengshan challenge!Challenge began from the doors of the days of mengshan, coaches use relaxed, cheerful and slightly challenge recruit tasks throughout, in the form of team to recruit the task execution, everybody!
Mengshan minor, know his companion, recruit project such as magic brush, make the source them.Especially the magic brush project, put a piece of paper that a square meter big on the ground, all the players to pull the rope end, can not contact brush, writing "source, industry and trade", lets everybody remembers.The next day, everyone in the game in the process of mengshan appreciate beautiful scenery along the way, and make for a long time in the working environment of the source, people away from the pressure of work between the mountain green water and blue sky white clouds, flying mood, breathe freely, sweat, and build friendships.
Two days one night of the party building, always revolves around a very interesting colour competition, become a happy memorable experience!This activity, we also received a relaxed, pleasant exchange experience, combing the past work experience, enjoy in retrospect you my deep friendship, no matter where, team members always go hand in hand. In the future, the company also hope every party building, can leave belongs to source were wonderful and moved.