Aelga 2020 Annual event
20 January, 2020
On January 12th, 2020, Qingdao Aelga Spring Festival Annual Meeting was held in Qingdao! Mr. Yue Yaofeng, the General Manager of Qingdao Aelga also attended the annual meeting, and after the enthusiastic toast, he greeted the Chinese New Year with a team of 100 people. The evening was composed of two parts: "Qingdao Aelga 2019 Honor Awards" and "2020 Spring Festival Annual Meeting".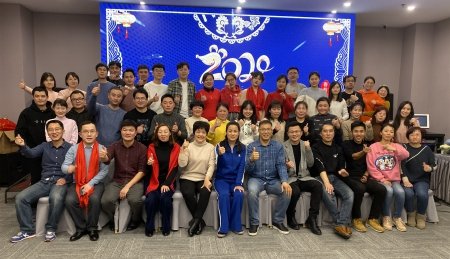 Wonderful photos
The awards ceremony highlighted the outstanding employees and supervisors of 2019, and also commended the new employees who had just joined Aelga for less than a year. If the awards ceremony reflects the struggle of Aelga people, the super hot show on the scene is a record of the vitality of Aelga's team. Sources from different departments were released on the stage, bringing one after another wonderful programs for the audience.
The sweepstakes that ran throughout the Spring Festival Annual Conference were also climaxing. Popular products such as washing machines and spinning bikes were delivered softly. Sincere gifts were exchanged for applause by the audience. The lively scene of fortune in the scene also predicted 2020 Aelga must have a prosperous future.
The wonderful annual event not only recorded the moving story of 2019, but also marked a new starting point for Aelga 2020! All Aelga people are grateful. In the new year, they will surely move forward with hard work.